Music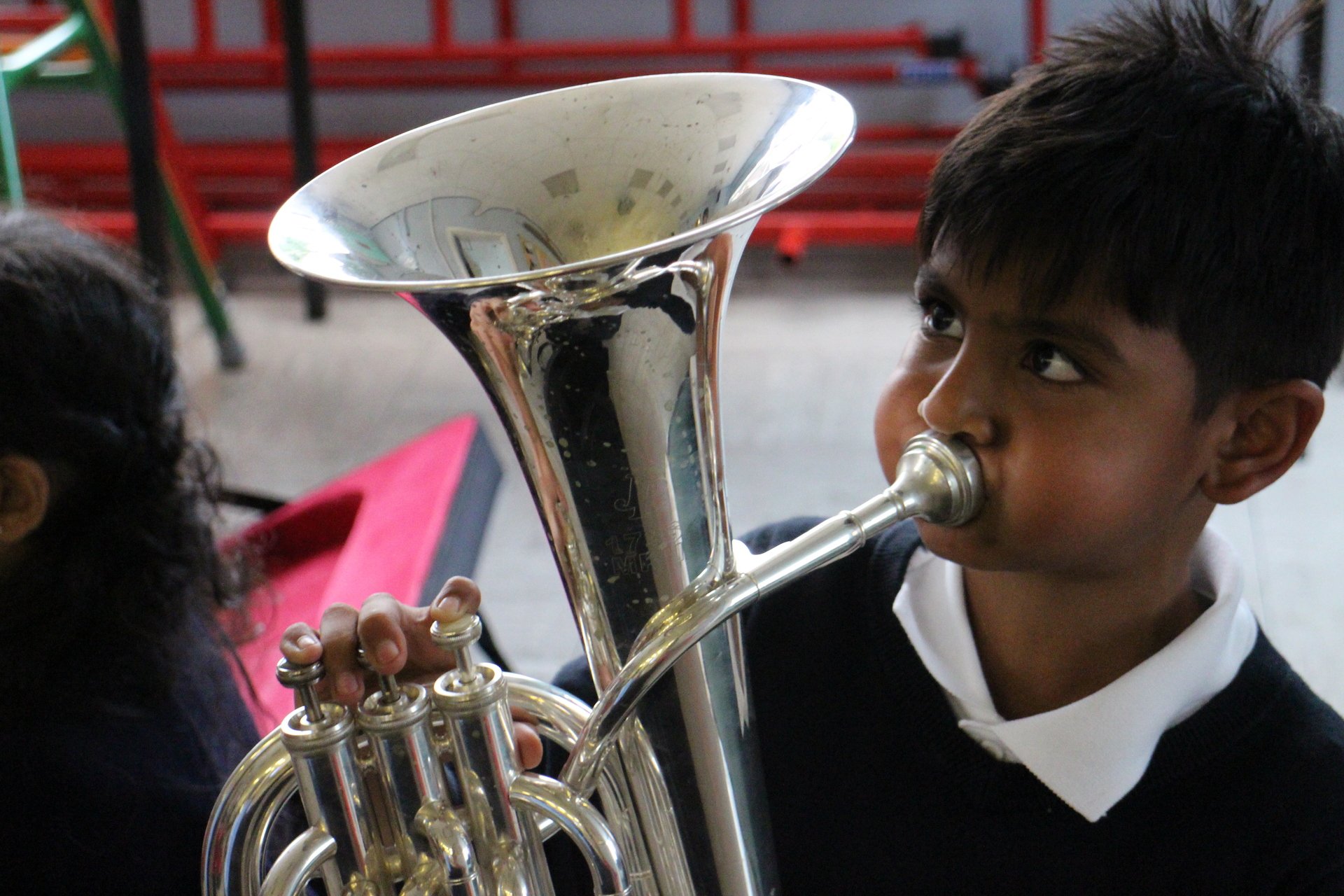 At Houghton Primary School, our aims and vision for Music, alongside those stated in the National Curriculum, are:
To develop an understanding of the breadth of music and how it links to our cultural heritage.

To develop pupils' understanding of how music can be a response to historical, geographical or religious contexts.

To promote growth mindset and wellbeing though opportunities to experiment, make choices, practice mindfulness and express difference and opinions.

To make links between musical arts and career pathways.

To develop pupils' skills in solo and group performance and a sense of community whilst performing.

To develop skills in singing, playing, listening, composing and performing, using a range of stimuli and instruments.

To foster an emotional and spiritual response in pupils to the music they hear.
There are huge links between music and religion. Music is regularly used in our worship to help build on stories in assemblies or celebrate important times such as Christmas, Easter and Harvest. Our school Christian vision is Love one another as I have loved you and in music the children are encourage to reflect on each other's achievements to provide support and inspiration for one another.
Music promotes our learning characteristics by:
Encouraging the children to be curious about the sounds they can create with instruments and their own body.

Getting all children to participate in singing and playing opportunities.

Encourage problem solving when composing new pieces and experimenting with sounds to create a given outcome.

Fostering perseverance on learning new skills and putting these together to create new piece of music.

Reflecting on compositions and performances to consider where they are and what they need to do next to improve further.
Music can be used cross curricular to stimulate conversation about history, geography, RE, art and PE and links can be made to these subjects whilst in music lessons to form cross curriculum links. The 20th Century unit that all years complete, covers a huge range of genres from all over the world and from different periods of time. During dance lessons music should be used to build up an understanding of rhythm and pulse and how these are needed for dance.
Through opportunities for every child in the school to learn an instrument from year 4 upwards, children are provide with the chance to play in front of an audience at events such as the Christmas concert and KS2 music evenings. We also have the chance to sing in church at services such as Harvest and Christmas with the KS1 children also performing their nativities. The older children have the opportunity to perform for the local community at the village hall and these event are always well received.
Music is taught using the Leicestershire Music Primary Scheme of work. The year is split into 6 units that are the same from foundation up to year 6. Each year the children complete units on Pulse, voice, rhythm, pitch and music technology. This structure allows children to build upon the previous year's learning as concepts are embedded and built upon as the progress up the school. Music history is taught throughout these units as children have the chance to listen to classic music and songs which develop their understanding of these 5 units. This is supported by a sixth unit looking at a range of artists and styles of music from the 20th century. The pupils have the opportunity to review the music they hear and are encourage to share their opinions as to why they do or don't like a certain piece they have heard.
The children are first introduced to the unit through listening and playing activities which are supported by discussion and modelling. They then take on board what they have learnt and through a series of self and peer reviews, create a final piece.
The curriculum is designed in a way which means all pupils will have the opportunity to be involved in lessons. Children will be introduced to a variety of artists from different genders, backgrounds, cultures, styles and time periods. They will have the opportunity to listen to a wide variety of both live and recorded music and share their thought and feeling on these with no judgement about these opinions.